2018-08-14
Thank You! And a Quick Note
Page 403 is up! (And if you're a patron, you can check out the next 2 pages too.)
Let's have a round of cheers for the eight new patrons who joined since the last news post!
Little did I guess, my landlord was just about to pull a large surprise rent hike at the end of July, and you generous folks are the only reason I was able to cope with that. Whew. You've also helped push us past the halfway mark on the way to our full-time comic-making goal. ♥ Thank you so much!
An astute reader pointed out to me that some people might be confused about the pledging options on Patreon.
Reader question:
How is it that people can pledge "as little as $1 per month" when the True Magic Patreon is set up for people to pledge a certain amount per page? And there's usually more than one page per month?
Here's how it works:
One of Patreon's nicest features is that it lets you set a monthly spending limit for each creator you support. So, no matter how much paid content that creator posts, you're never charged more than the limit you set.
For example, let's say you want the basic $1+ reward tier (which lets you see pages as soon as I finish them, usually a few weeks before they're published here). You can set your pledge to $1 per page.
And if $1 is as much as you ever want to spend in a month? Just set your monthly limit to $1, too. Voilą! Whether I post one page, or five pages, you'll only ever be charged $1 per month. (And you'll still get to see all the pages I post, even if you're only financially supporting the first one.)
On the other hand, if you're one of the folks who wants to contribute a bit for every page I finish: A lot of people like to pledge $1 per page and set their monthly limit to something like $5 (which covers a page per week at the current schedule).
I hope that makes things clearer! Every bit of support helps, so please pledge according to what is most comfortable for you.
And like I said in the last post: You can always support True Magic for free, just by sharing it with a friend. ♥
Thank you for reading!

Featured Friend:

Flaky Pastry

The button says it all. Almost. (I guess there wasn't room to mention "awesome characters" and "totally sweet artwork.")
2018-07-24
Huzzah!
Four hundred! That is a pretty neat milestone! Sure, I can take some of the credit, but you know who actually made the last couple hundred pages possible? (I bet you can guess.) Yes, I'm talking about the eternally awesome True Magic patrons. ♥
Their kind comments keep me energized and enthusiastic about creating the comic, and their dedicated support literally pays my rent every month. It means the world to me that these wonderful people are here to help me create this story.
I just wish I knew what to do to encourage more people to join us.
Between comic development (~100 hours per month) and two other part-time freelance projects, I'm working about as much as I physically can... and, to be honest, I'm still struggling.
Most months, after I pay rent and before I receive my main client payment, there's about a week in there where I just can't buy food because my last ten dollars are needed to keep the lights on.
Even after that, income from my other work has been very unpredictable. I often don't know how (or indeed whether) I'm going to get through each month.
Needless to say, this is scary.
But I'm committed to keeping True Magic going. I've put my heart into every one of these 400+ pages. I've kept drawing even when I was tired, or scared, or overwhelmed, or burned out from a month of work with no time off.
And I'm going to keep drawing — because I love this story, and I love sharing it with you.
If you think the comic is worth supporting, and you'd like to help me make more of it...
If money is tight (and believe me, I understand), you can still help a lot, absolutely for free, by sharing the comic with a friend. Above all, my biggest hope for True Magic is that it will be read and enjoyed.
Thank you so much for reading! I hope we'll enjoy this story together for many years to come. ♥
2018-07-17
July 17th Update!
Page 399 is up! (And if you're a patron, you can check out the next 3 pages too!)
And I'll just mention again that the SpiderForest Webcomic Collective is accepting new member applications through July 31st! If you're a comic creator and you're interested in joining, feel free to apply!
This week, let me tell you about...
Geytkeypur
This channel makes extended loops of lovely music (often from game soundtracks) to play in the background while you work or study.
There are a lot of great "X song, extended" videos on YouTube, but these stand out for the excellent quality and care that this person clearly puts into each one: often pairing up the music with pleasing video footage, adding subtle ambient background sounds, or adjusting the song's tempo to make it more relaxing.
Here are three of my favorites:
Final Fantasy XV - Crystalline Chill (The chillest version of the Final Fantasy Prelude theme that I've heard.)
Daft Punk - Sea of Simulation (Super-relaxing, yet not sleep-inducing. A one-hour loop isn't long enough!)
Skyrim - Frostfall (A great example of video perfectly complementing audio. I like to arrange my program windows so that this stays visible at the bottom of my screen while I draw. Better than a desktop fountain.)
Is there anything you'd like to recommend? Feel free to tell me about it on the forum!
2018-07-10
July 10th Update!
Page 398 is up! (And if you're a patron, you can check out the next 4 pages too!)
This week, let me tell you about...
SpiderForest
I joined this webcomic collective a few years ago, and I'm glad that I did!
It's a great place to discover new comics, chat with creators, and pick up useful advice on how to improve your craft. (My own comic-making process has benefitted greatly from the insights I've found on the SF forum.)
It's a lovely community, full of excellent comics and (most importantly) excellent comic creators. Every interaction I've had with other collective members has been very positive.
A forest full of spiders might sound scary, but fear not! These spiderfriends are very welcoming and supportive.
And guess what?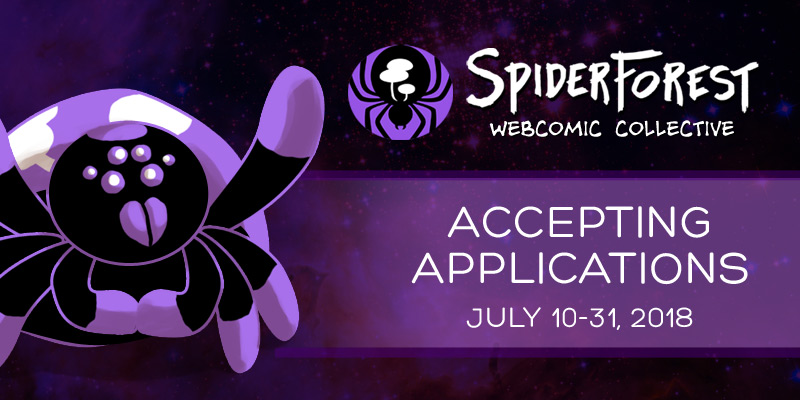 If you make a webcomic that you think would be a good fit, and you'd like to be part of a fun and friendly community, please feel free to apply. ♥
Joiiiiin usssss.
Is there anything you'd like to recommend? Feel free to tell me about it on the forum!
2018-07-03
July 3rd Update!
Page 397 is up! (And if you're a patron, you can check out the next 4 pages too!)
This week, let me tell you about...
Peter Hollens
You might already be familiar with this singer, but if not... let me fix that for you!
Peter creates lovely acapella covers of all kinds of fun songs — from We Are Never Ever Getting Back Together to its medieval equivalent, Scarborough Fair. If you like beautiful melodic music, you will love his channel.
(Note: He often adds a nice cheerful message to his viewers at the end of each video... which can act like an unintentional jump-scare if you're not expecting it. XD Careful.)
Here are a few of my favorites:
Greensleeves, feat. Tim Foust (One of my favorite folk songs, sung by not one but two wonderful voices. They work so well together!)
Misty Mountains (An excellent extended cover of the dwarves' song from The Hobbit. A great demonstration of this guy's amazing range.)
Loch Lomond (Truly gorgeous. ♥ The first time I watched this, with the volume turned up, the sudden outro startled the daylights out of me and left my heart racing for about a minute afterward. Totally worth it, though.)
Is there anything you'd like to recommend? Feel free to tell me about it on the forum!